Aerial archaeology J. Dassie. Aerial prospections.
AIR ARCHAEOLOGY
History
Aerial archaeology was probably born in Syria, about 1925, with the works of a French soldier, Reverend Père Poidebard. This air observer had noticed that, in the desert, at sunset, the long solid drop shadows of negligible reliefs at the surface of ground revealed sometimes geometrical structures! Beginning with this observation, he became the first rational and effective air prospector, since he could thus map all the Roman layout of the files. This precursor was followed in North Africa by Cl. Baradez. In our British neighbors, it is necessary to quote Crawford, Crampton and J-K. Saint-Joseph, with all the power of Department of Survey of Cambridge University... Means to make dreamy French amateurs! In Italy, F. Castagnoli, A. Adamesteanu, General Schmiedt, with Aeronautica militare and Aerofototeca have spectacular results meanwhile that in Germany, an American, Irvin Scollar makes use of all technicals and financials means of the Bonn Landsmuseum.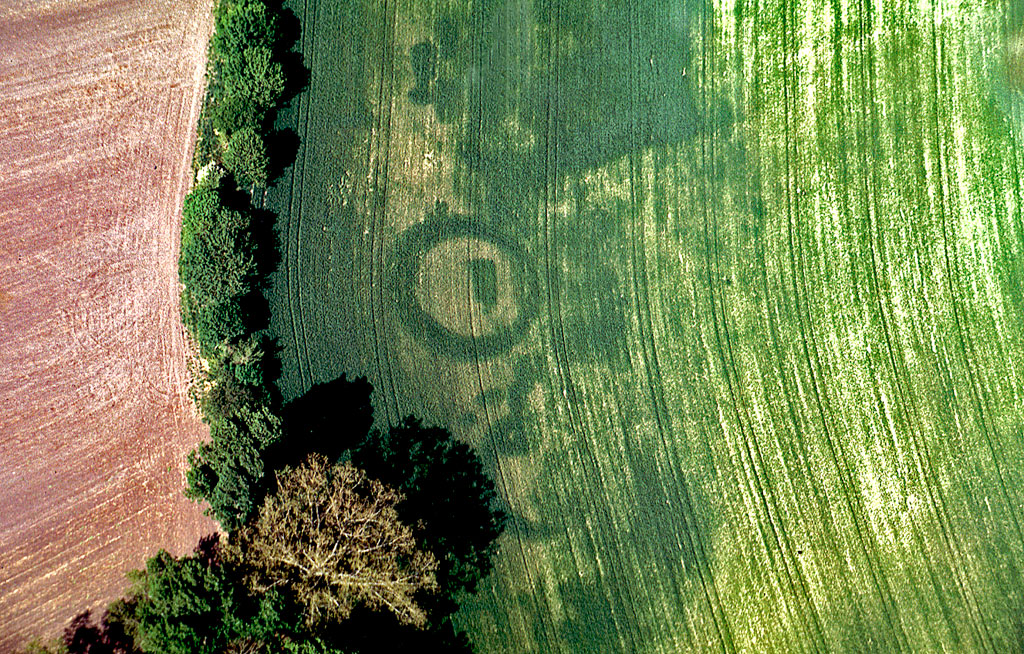 Typical image of aerial archaeology : circular protohistoric ditches. © J. Dassie
Among the pioneers, let us quote Roger Chevallier, Bernard Edeine, P. Parruzot, Bret etc It is necessary to wait until the Sixties in order that emerges spontaneously from regional prospectors, continuing still currently their work
Roger Agache, a great specialist of the Roman presence in north of France. He is the only one which is a professional of archaeology since he was during a long time Directeur of Antiquities of the District Nord-Pas-de-Calais
Daniel Jalmain, prospector of Ile-de-France and Eure-et-Loire. Amateur, headmaster. Beautiful discoveries, in a broad chronological pallet. Discrete and effective man
Rene Goguey uses army means to fly over a wide zone, from Burgundy to Rhine. In civil life he organizes air prospection in Burgundy and got the Regional Authorities to buy a plane
Colonel Louis Monguilan, pilot, directs the ALAT in the Aix-en-Provence area. He benefits from the missions of drive to locate archaeological structures... Returned to civil life, he continues its prospections in flying-club
Jacques Dassié, private pilot, prospects in the south Poitou-Charentes area. His action is characterized by a great number of discoveries, the development of a methodology concretized by the publication of its " Handbook of Air Archaeology " (in french) and the design of the first illustrated operational bank for archaeological datas: the Archaeological Bank Poitou-Charentes. Creator in 1998, of this first Internet site completely dedicated to air archaeology.
Exceptional weather conditions in 1976 have caused a multitude of vocations of " air prospectors ". It was so easy that year! The following year, 1977, rather unfavorable, came to moderate much heats, and only continued stubborn people, the courageous ones!
Their list is now long and we will quote only our own area, with :
Colonel Louis-Marie Champeme, pilot, former instructor of the Air Force
Christian Richard
Alain Ollivier.
Why human work leaves traces...
During a plane walk, it happens sometimes that one distinguishes curious traces in cereals about June: lines, circles or squares, clearer or darker than remainder of cultivations. Maybe is he unaware that he had just discovered archaeological indices! But what is the origin of these traces? As soon as the man dug the ground or brought materials, it destroyed the natural homogeneity which had been gradually constituted during previous millenia. A ditch will have been naturally filled of a filling based on humus however that hidden foundations will give a stonier ground, more calcareous. These sites will have water holding capacities quite different from those of their environnement.
And there resides the secrecy of the origin of these famous traces...
On the old ditch, the plants, cereals, will push better, especially in period of dryness. Greener and more tops, they will yellow more tardily and will be able to pour more easily. Conversely, above hidden foundations, even deeply, the cereals will be finer, lower and will yellow more precociously. In winter, especially after a strong gale draining the grounds, of the water thin cables increase will draw into dark the layout of hidden ditches. Thus sometimes, you will be able to see from the ground confused lines taking shape in the fields, but perception of whole of these anomalies is very difficult. It is there that intervenes the plane: by the distance which it brings, by its facilities of positioning around the site, it makes possible to perceive better the geometrical scheduling of traces observed. Because it is precisely the characteristic form of indices which makes possible to the prospector to recognize the human and probably archaeological origin of these structures which he will photograph. The photographic image will constitute the decisive proof of the existence of a site, and will be joined to the official declaration of the discovery sent to the Regional Service of Archaeology. The principal revealing indices are:
differences of color, hue or density in the hue. It is the case of the above examples
Anomalies of forms or structures with the particular case of an anomaly of relief induced by ditches or foundations hidden. The example of Reverend Poidebard shows it
Appearance or fusion of elements related to temperature: snows, white frost, fine hail, glaze will be elements sensitive to micro-differences in temperature induced by hidden heterogeneities.
Relations between forms and evaluation of chronological dating
the general form of these structures will allow a first evaluation of a supposed chronology. Ditches of very large enclosures, doubled ramparts or palisades, with gates with baffles, defending a defensive surface and of gathering of 200 with 400m of diameter, are the work of Neolithic tribes of gatherer-hunters in a sedentarisation process. This period ranges between 4000 and 1800 B-C.
In the following time, protohistoire, from -1800 approximately, until our era, is characterized by circular ditches or squares much smaller, from 10 to 50 meters in diameter, devoted to the funerary ritual with incineration. They are necropoles, cemeteries of this time, where, in a ditch one placed a ceramics mud containing ashes of late, surrounded by offerings for the " great voyage " armament, if he is a warrior, ballot boxes, provisions).
We thus see appearing the first tangible demonstrations of spirituality
Since the conquest of Gaule, Gallic people have quickly assimilated the technical progress brought by the Romans: stone construction, use of tiles, domestic comfort (central heating), distribution of water feeding fountains and thermal baths (public baths). There were the monumental concretization of places of worship, fanum and sanctuaries like that of the centers of leisures: amphitheaters, theaters and circuses. Very large agricultural generating stations are born in our campaigns: villas, gathering several trade associations and an abundant personnel. This activity of new construction results today in many hidden foundations. A spectacular example consisted in the Gallo-Roman city of Novioregum, in Barzan, CM, (we discovered the structures in 1975; recognized surface is near 400 hectares.)
the medieval period constitutes a little regression, at least until year 1000. Feudal mounds and castrales populate our campaigns cut out in small seigniories. But there still, castles and keeps flush will deliver their secrecies to that which seeks them sky.
A plane, a pilot, (but is so much better to control oneself...), a camera with a zoom and films: here is the panoply necessary and sufficient to make air archaeology. However another condition exists, but it is not material: it is the passion of search, of untiring search rewarded by the discovery!
Air Archaeology and the Web.
In classification, aerial archaeology is generally placed in the following categories:


| | | | |
| --- | --- | --- | --- |
| Social sciences | Anthropology and archaeology | Archaeology | Aerial archaeology |
It is certain that the term " archaeology " gathers a considerable number of sites and we asked the principal search engines to create the subcategory "Aerial archaeology", equivalent, in another field, with that of "Underwater archaeology ", already existing in Europe. The results of search were examined carefully and only the principal sites treating air archaeological prospections will be reported on "Main links".